Hands up if you want to know how to create a successful photography business?! Or, you already have one, but you just know it can be better?!
I've been there, I started out in 2012 shooting 45-50 weddings a year and without any idea of where this would go. But over the past 5 years I've been busy passing on the knowledge I've gained as a successful wedding photographer to 500+ students via workshops, conferences, and more recently, zoom.
So finally, after a long 6 months of building, it's time to launch The Complete Wedding Photographer – an online business and photography masterclass for anyone looking to build and develop their brand, in their own time, in their own home/office, and at their own pace.
it's time to take your brand to the next level.
---
The Complete Wedding Photographer is designed to make you ask questions of yourself and your brand, and whether you're completely new to the industry, or you've been doing this for 10 years, there are lessons and ideas for everyone to take away and implement into their business. If you're keen to fast-track your development, figure out how to push your work forward, or create a more profitable and efficient business, the course is packed with ideas and tools to help you figure out that path.
The online course is a complete (hence the name) guide to everything you need to know in order to run a successful wedding photography business, we discuss and explore everything from workflow and systems, to pricing and mindset, through to shooting styles, techniques and handling low light and the dancefloor.
Each section is geared towards helping you understand the mistakes photographers can make and the pitfalls that we need to avoid, whilst giving you the tools to find your voice, build your confidence, and in turn grow your business.
"So its been a month since I have completed the course and since then…no joke…I have booked over 10 weddings since taking on the advice and knowledge from Sam. I dont think my feet have quite hit the ground since then! I just needed that extra insight and confidence boost from Sam that was much needed for me to go in the direction I have wanted. I really cant even begin to thank and praise Sam for what he has done for me and my business. It's literally been life changing! So if you are looking at which workshops to do…stop looking and just book this one."
Louise Griffin / UK
So if you don't already know, I'm Sam, a wedding photographer based in Derby, it's the small city just across from Nottingham, and above Birmingham!!
I've been a full time wedding photographer now for 8, almost 9 years, and have been fortunate to shoot all over the UK, Europe and internationally. I've travelled to France, Italy, Greece, Mallorca, Ibiza, Antigua, Denmark and Portugal (to name just a select few!) documenting couples weddings, and I've grown my business rapidly, starting out charging £400 a wedding in 2012, to £3500 in 2017, to today where I charge £5000+ for wedding coverage, shooting a selective 20 weddings a year.
Since 2016, I've hosted workshops to a total of 290 photographers, some of whom had never shot a wedding before, and some who had more experience and background in the industry than me. I've helped photographers identify areas to improve, guided them to book more weddings, increase prices, develop their identity and style, and a number of those who had just started out, have gone on to grow their businesses and charge £2500-£3000 per wedding.
"Where to start! I think an enormous THANK YOU should be first up! Taking your 6 week course has been more transformational for my business than what I could have imagined. I feel more inspired, confident and excited than ever before about wedding photography and I even feel personally very uplifted. With what has been quite a difficult year for most, I think this came at just the perfect time to press the reset button, pause and set in motion all of the amazing ideas and insight you bring. I've been taking the steps to put everything I've learnt into practice which is already speeding up and refining my workflow and bringing me fantastic feedback from my clients. I was blown away by how honest and open you were throughout the whole process, the time you take to speak with everybody, and just how much the group felt so relaxed, funny, friendly and welcoming. I used to be one of those people scrolling through websites reading reviews trying to figure out which workshop would add the most value to my business – believe me when I say STOP NOW and BOOK!"
Carla Whittingham / UK Photographer
01.
Shooting Setup and Techniques.
02.
Branding and Marketing.
03.
SEO and Social Media.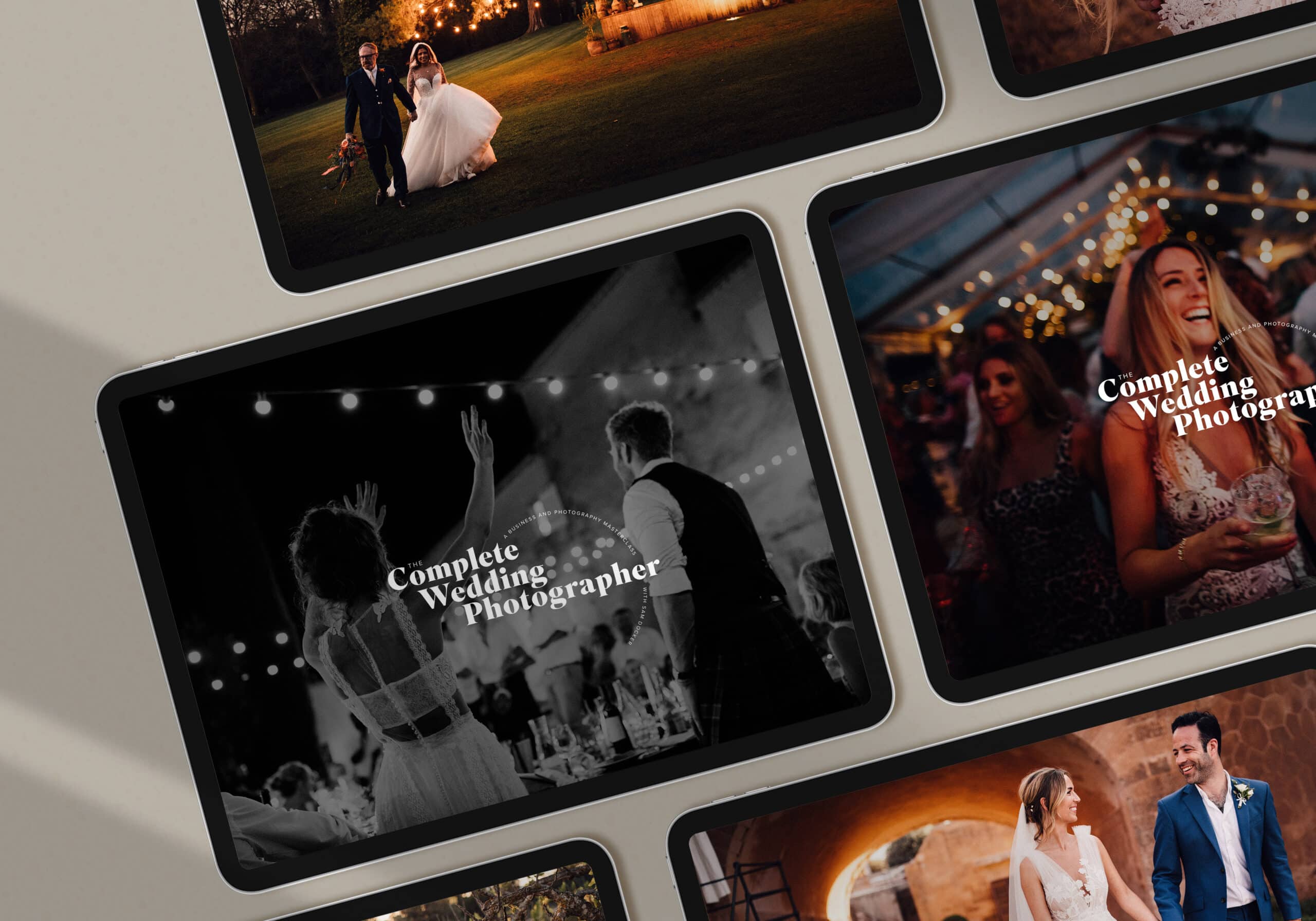 04.
Business and Systems.
05.
Shoot the Dancefloor.
06.
Workflow and Editing.
Who are the courses for?
The Complete Wedding Photographer
This is aimed at anyone who wants to make a career and successful business out of wedding photography, I'm an open book, no questions are off-limits, and every success is included alongside every failure from my 8 years of business.
Whether you're looking for a career change, or you need a fresh creative input into your business, the course is packed with ideas and lessons on how to improve as a photographer, to target your dream clients (and convert them), how to shoot effectively and be confident in any lighting situation…. we also look at;
Shooting Setup and techniques – we explore visual triggers I regularly look for at weddings, influences and understanding the creative process, and how to setup your camera to maximise the potential from each and every wedding.
Branding and Marketing – from SEO, creating your brand, to web design and user experience. Any subject on how to get your name in front of the audience and how to sell without selling, we cover it here.
Social Media – my tips on consistently growing your brand on social, along with managing the platforms efficient and effectively.
Business and Systems – how to run an efficient business, and be professional. If you're regularly juggling excel spreadsheets and worried about double booking or missing invoices, you won't be after this.
Shoot the Dancefloor – I spent years not having a clue on how to handle low light, but after too many bad experiences, I stripped everything back and started again. One of the most popular parts of the workshop, you'll never worry about low light again!
Workflow and editing – from the second I finish a wedding, through to client delivery, every element is discussed and explained, and we address security, editing speed and efficiency, how to grade, export, sharpen and deliver.
The Beginners Photography E-Course
Launching in the Autumn of 2021…..
A complete beginners guide to shooting in manual mode, understanding the mechanics of photography and how to execute better images.
+ A crash course on using Adobe Lightroom, basic editing techniques and image management.
"Sam, I honestly can't put into words how much I have taken away from your workshop! The hours I've lost watching flash tutorials on YouTube to only be disappointed by the results, then for the penny to drop in a 5 minute chat with you (I've recently looked at paying £400 just for a lighting course! Not anymore), so a massive thanks for adding that in."
Sarah James – Flashback Images / UK
It wasn't always like this…. in the first few years I learned some hard lessons.
I was busy, regularly shooting the dreaded triple header! Waking up after a wedding with a sore back, having to get my gear ready to go again, I was knackered! Not to mention being away from the family every weekend.
Editing, I would often be at my desk until 2-3am in the morning frantically trying to clear the editing backlog, which seemed never ending!
I'd stress constantly about image security, terrified every time I went to re-format a card… "have I definitely backed this one up, what if I haven't?"
I always felt under huge pressure to be creative and to produce something "new" at every wedding.
Constantly comparing myself to others and thinking I wasn't good enough or shouldn't be charging this…
Worried clients would always want more, and that the gallery wasn't as good as they were expecting.
…but it isn't like that now, I produce work that I'm passionate about, but more importantly for clients who appreciate and value my ethos. I'm confident in my work and approach, and trust in my ability. I have a great work/life balance, even having some weekends off during the summer, and I no longer sit in the edit-cave until 2am!!
Preset Pack V1
6 Presets for Adobe Lightroom
A combination of presets that I use for each and every wedding I shoot, complete with a video on how I apply them and achieve my grade. This is not a "one-click" and it works preset, it's designed to give my image a certain depth and warmth before I balance exposure, white balance and tint. The preset warms up an image without making the skin tone yellow, and provides the right balance of contrast without losing detail in the shadows or blowing out the highlights.
The preset pack includes the following presets;
MAIN GRADE
MAIN GRADE ++
GOLDENHOUR
INDOORS
NIGHT MODE
BLACK AND WHITE 1
BLACK AND WHITE 2
+ A toolkit of short-cut actions; Auto-Straighten, Noise Reduction, Orange Skin Fix, Red Skin Fix, Grain Off, Grain On
Select your product